IMET Radio Remote Controls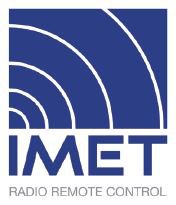 Conductix-Wampfler Pty. Ltd. is official sales partner for Radio Remote Controls of IMET in Australia.
Radio Remote Controls have become a key element within a modern working context where safety, productivity, freedom of movement have a continuously increasing importance. Industrial radiocontrollers are consequently for time saving and risk reduction working instruments. 
Thanks to the radiocontroller, the operator stands in the place with the best visibility and lowest operation risk. The wireless technology allows to control the machine in full autonomy without requiring other operators to support the job with indications.